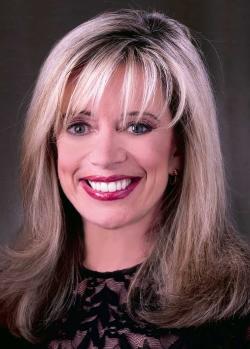 PERSONAL
Birthdate:
Birthplace:
Spouse: Married
Kids: 3
BRL: 1965-1967
WHAT YOU DIDN'T KNOW ABOUT ME
I was on the cover of playboy, totally clothed, September 1967.

I began college at Fontbonne College for one semester then transferred to Washington University where I was a cheerleader and homecoming queen, as well as cheerleader for the St. Louis Football Cardinals. I did quite well at both of those schools but had a hankering to go away to school so I begged my dad time and again to go away to school. Finally in my junior year, I was allowed to go to University of Wisconsin in Madison. I was a weak student but eventually graduated in l969, and then went on to Marquette University to get my teaching certificate, but went into the special events business with a specialty in fundraising and management, and creativity and forward thinking.

I wish I would have taken more advantage of University of Wisconsin and studied more instead of partying. I was also on the cover of playboy, totally clothed, September 1967. It was a cover based on the big ten colleges inside in skirts and sweaters modeling the fashions of the times, and I was selected for the cover. My mom freaked, my dad said as long as it was on the up and up - go for it. It has followed me around but, now all these years later it is a riot. It was so demure. I looked flat chested, muscular legs, cuz I was a jock but, I had beautiful thick blonde hair that I still fortunately have and so it goes.

Since graduation, I have had three kids, Stephanie, married with one child; Kellyn; and Blake. I performed in the chorus at the skylight theater in Milwaukee, worked in administration there running the theater, went to summerfest in l974, l975, worked as admin. asst for Henry Jordan then went to the Natl M.S. Society and ran the southeastern read-a-thon program. Then I became the Ex. Dir. of the MS Society in Milwaukee, for a short time, before Mayor Maier offered me a job in l978 in the office of the Mayor of Milwaukee. I was a staff asst. to him doing representation of him, giving welcome speeches, developed a niche for fundraising.

From l984 - 2003, I was the Executive Director of Summerfest, Milwaukee World Festivals, Inc. (started in 1968, throughout the summer, there are ll cultural and ethnic festivals every weekend of the summer, and eleven days of summerfest the world's greatest music festival).

I have been blessed with great success--lots of stress from politicians, and the usual stress that comes along with board of directors in non-profit agencies. If I had to do it all over again, I would go into the profit industry, but I needed the flexibility because I am a single mom who raised three great kids by myself financially. I could not afford to start my own company. I was offered a job in my hometown of St.Louis, Mo in l990, but my kids were too young I thought to move.

I was a 'Bussmann' in St. Louis, and am Bo Black in Milwaukee. In St. Louis I was a somebody, just by virtue of my name. In Milwaukee, I had to develop who I was by a lot of hard work. I think I am respected and generally liked, but I think I come off much tougher than I really am. I am sweet and love most everyone, loyal and will do anything for my kids, friends and family. I am presently married to Tom Trebelhorn, former base coach for the Baltimore Orioles, my third marriage. I thank God for such a great life and am glad I had a catholic upbringing so I have such great faith. I hope we don't have to go to war but, I am worried that we have no other hope. I pray for this world.


UPDATE: After suffering the stroke, Bo has undergone surgical procedures to release the pressure on her brain and to repair the aneurysm and prevent further internal bleeding. The first procedure was done at Scottsdale Healthcare Osborne Campus and the next two at Barrows Neurological Institute at St. Joseph's Hospital in Phoenix.

Since moving to Scottsdale, Arizona with Tom Trebelhorn, Black has become a supporter for women's health issues, particularly heart disease.

Black's family said they are hanging in there. "We're very proud of what she accomplished there. She's a fighter and we hope she can fight through this," Black's son, Blake, said in a telephone interview.

* This information was obtained from the Journal Sentinel's News Information Center, as well as other news feeds. 2007-2011.