Events/Appearances


June 26, 2016

Place: Starting at Old Ballas Rd & N New Ballas, ending at Shaare Emeth. Carnival is at DeSmet High School in Creve Coeur MO.
The Big Red Line will be participating in the annual Creve Coeur Days Parade, Annual Charity Carnival. Creve Coeur Days activity began in 1967 as a celebration to commemorate the completion of the I-270 and Olive Boulevard overpass. For five decades, it is a unique celebration planned and manned by a dedicated group of volunteers - members of Creve Coeur Days, Inc., a non-profit organization whose membership is open to anyone who wishes to participate. As well as a fund-raising event, with proceeds distributed annually to area charitable and philanthropic organizations. Among the worthy causes that have received financial support from Creve Coeur Days are the Creve Coeur Police and the Creve Coeur Fire Protection District, the D.A.R.E program, the Ronald McDonald House, Shriners Hospital, Variety the Children's Charity, the Mathews-Dickey Boys Club, Grace Hill Settlement House, the Salvation Army, YMCA Camp Lakewood, James S. McDonald USO, and many others.

AUGUST 20 & 21, 2016

Event: 2016 St. Louis World's Fare Heritage Festival
Place: Forest Park @ The World's Fair Pavilion
The St. Louis World's Fare Heritage Festival is an annual event whose mission is to bring together people of the region, showcasing the finest elements of art, music, business, and food while we rediscover the rich heritage of St. Louis.

This special event is also designed to help bridge St. Louis County with St. Louis City uniting the region into one community while benefiting local schools and charitable organizations. Forest Park will be the centerpiece of this celebration featuring events and competitions that embrace the history of the 1904 St. Louis World's Fair, highlight the culture of St. Louis today, and look to the future as stronger more unified community. From favorite St. Louis eateries, family activities, and live musical performances to historical exhibitions, live art displays, and a business expo supporting innovative ideas and small business, the World's Fare will be an event that has something for all to enjoy! (http://stlworldsfare.com/)

Event starts Friday night August 19th, 2016 and ends on Sunday August 21st, 2016.
Come and meet the BIG RED LINE! We will be performing and volunteering in various areas around the Fare grounds.




Big Red Line News

June 11, 2016: The Big Red Line participating in the annual Richmond Heights Party on the Pavement from 6pm to 6:30pm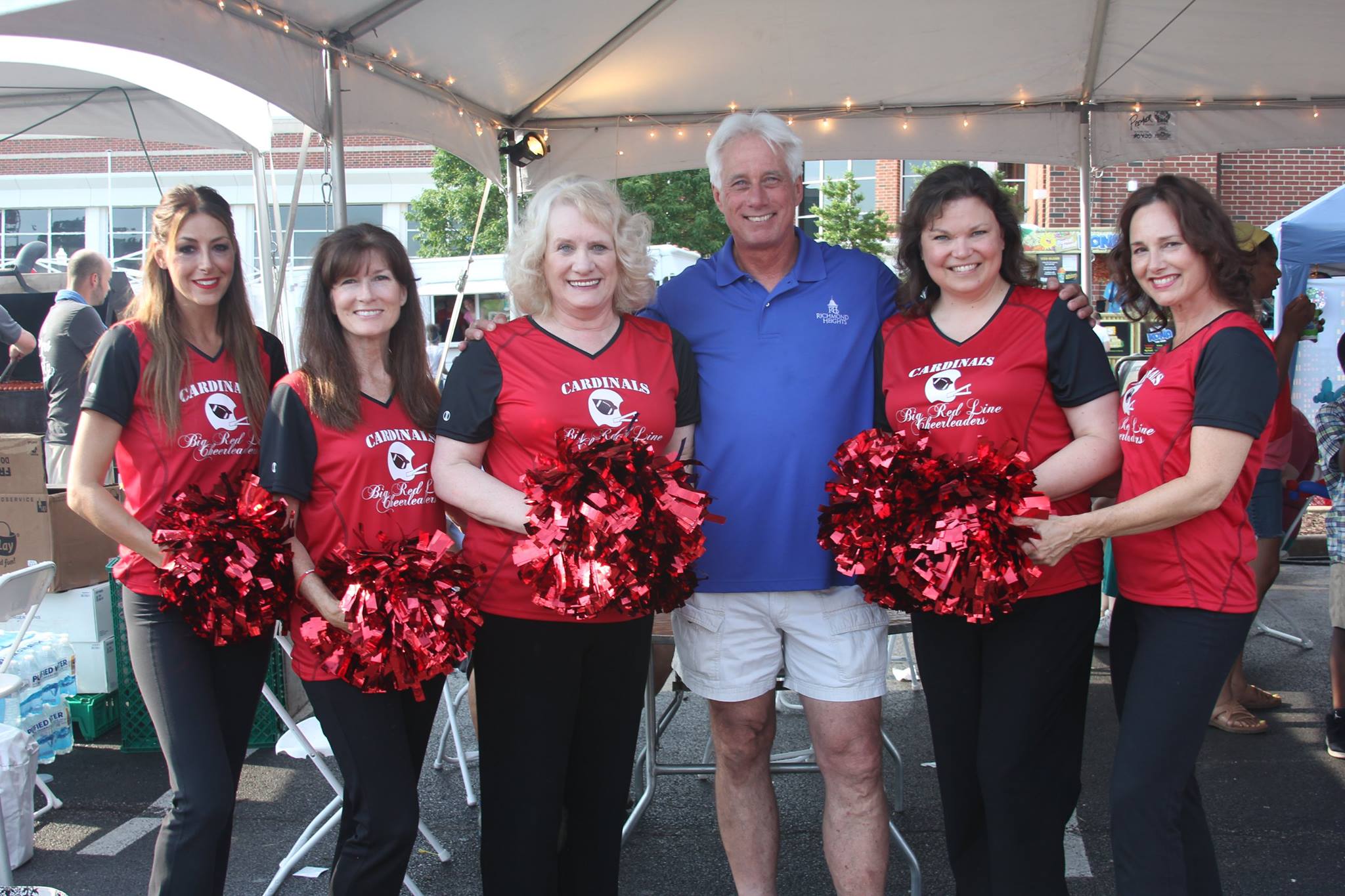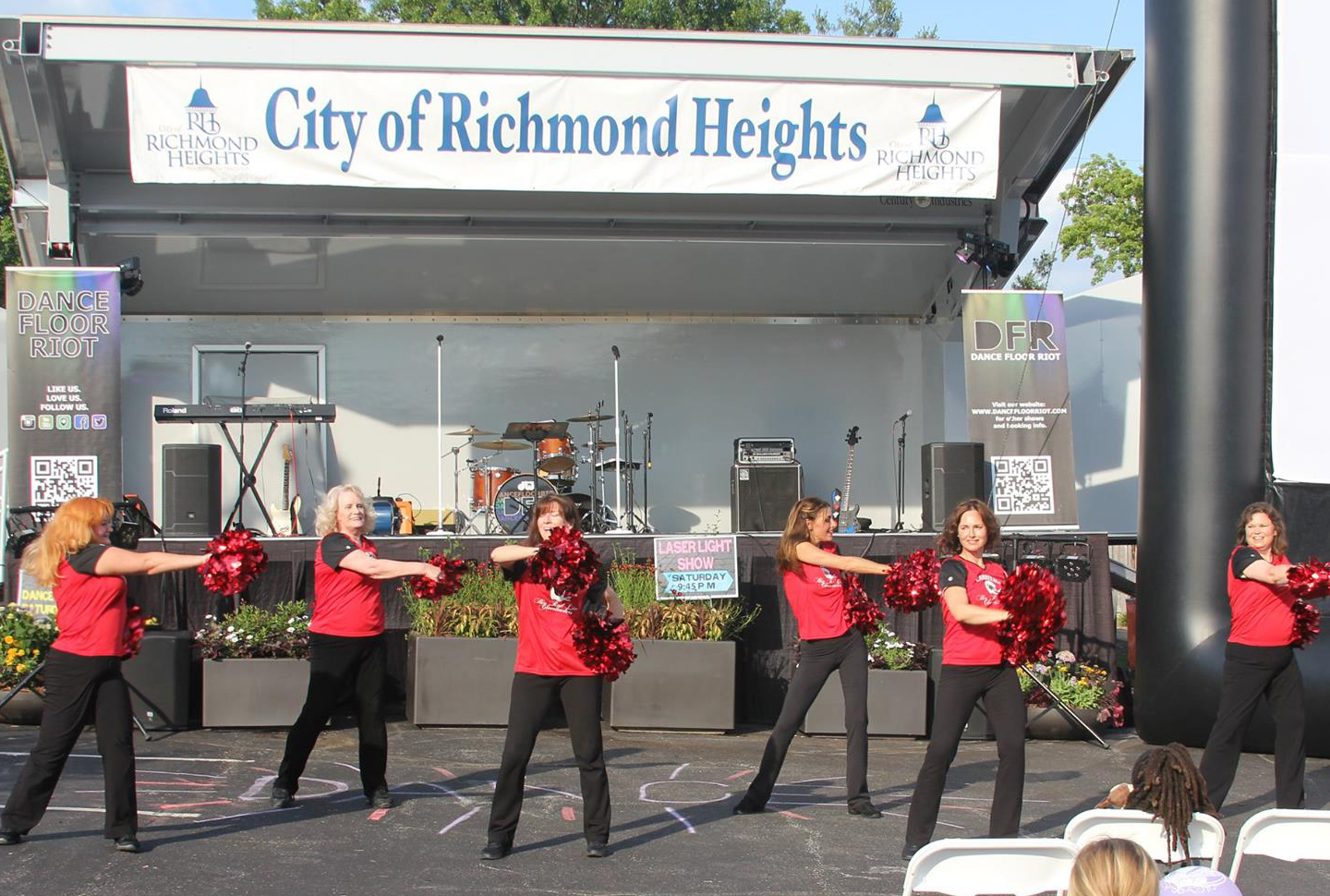 June 11, 2016: The 39th annual Ballwin Days Parade. This year's theme is "Surf's Up!" The parade first got it's start back in 1970's and is a festival favorite!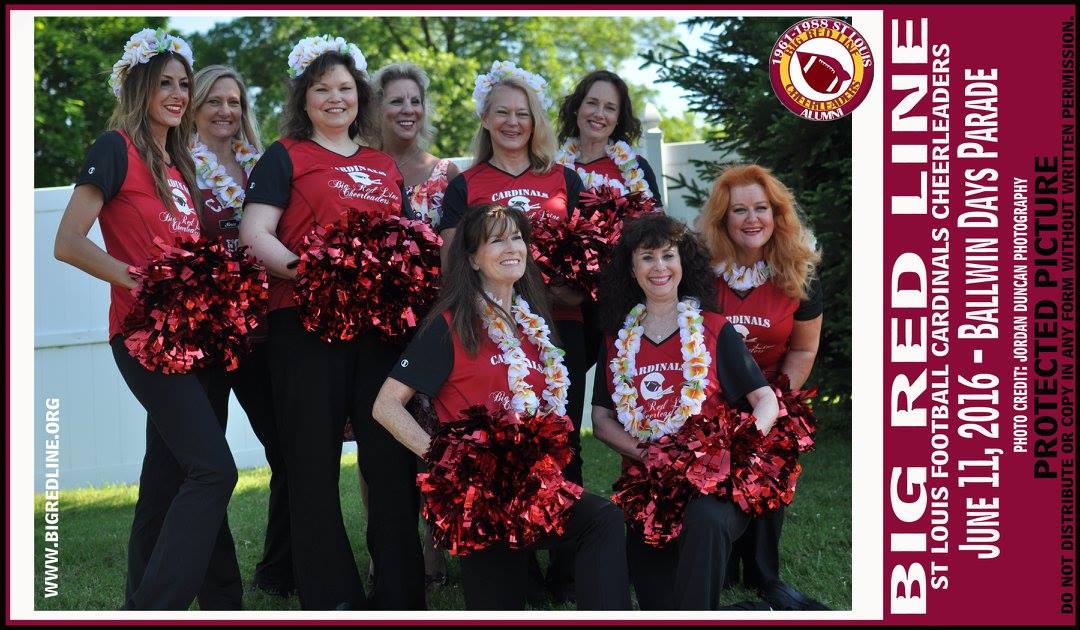 May 28, 2016: 2016 St. Louis NAMIWalks Event. thousands of people in more than 80 communities across the nation join together to raise money and awareness about our country's need for a world class treatment & recovery system for people with mental illness.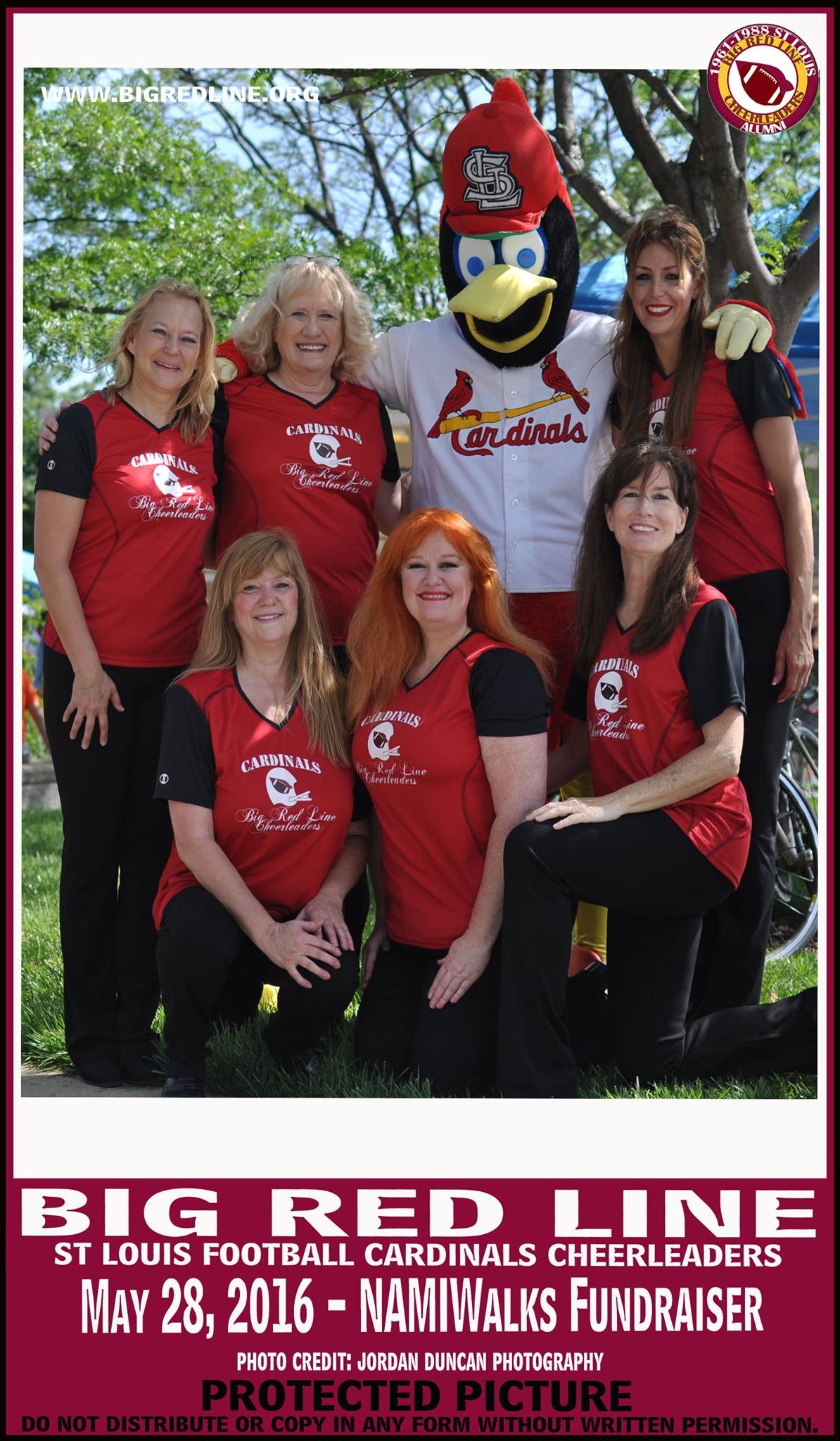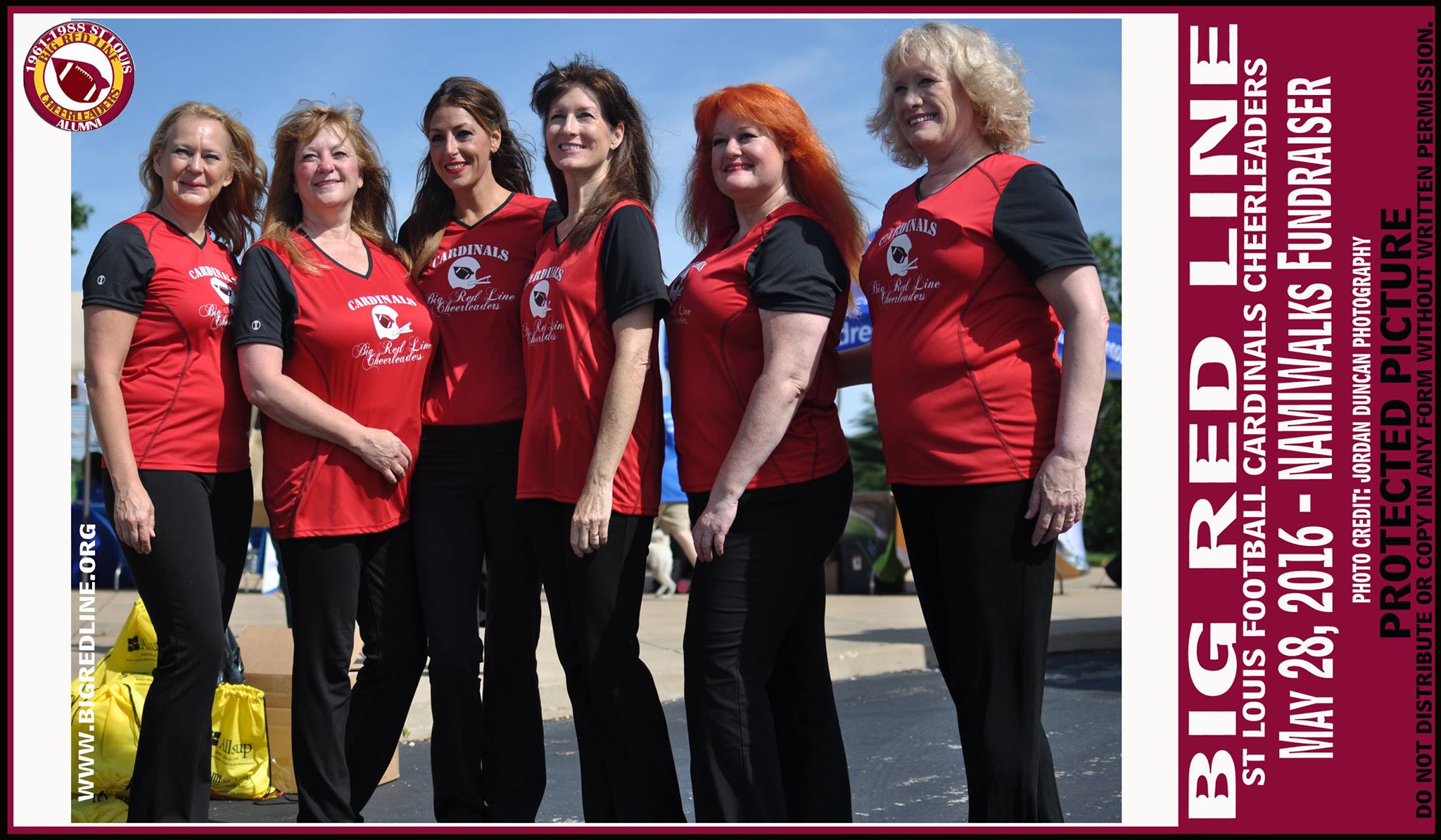 February 5, 2016: Our TV spot with Jamie Allman ABC30 St Louis. Had a blast! Celebrating 55 years supporting & promoting the St Louis area. You can see it on the Big Red Line Cheerleaders facebook page.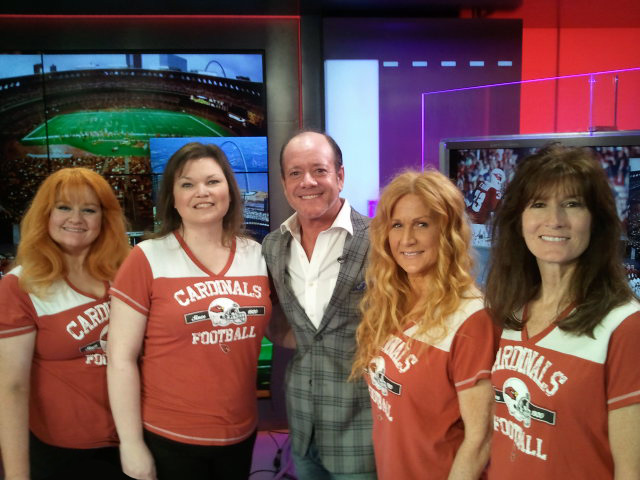 January 21, 2016: ALLMAN IN THE MORNING on 97.1 with Jamie Allman and our very own Debbi Rosenberg-Cox (about 6:20 am) talking about the Cardinals' Big Red Line activities celebrating our 55th anniversary year! You can hear it here: 97.1 The Talk

The Big Red Line volunteered and participated in the 2nd Annual St. Louis World's Fare Heritage Festival on August 23, 2015 at Shakespeare Glen adjacent from the Saint Louis Art Museum. The following non-profits will benefit from this event: • Operation Food Search • The Demetrius Johnson Charitable Foundation • Forest Park Forever.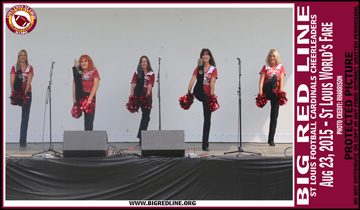 What do former Big Red Line'rs still do for St Louis? Volunteer and fundraise! Our very own Terri, Tina, & Debbi participated in the 5th Annual Lung Cancer 5K Walk on September 27, 2014 at Creve Coeur Park. There were over 450 participants who raised just over $39,500 for lung cancer!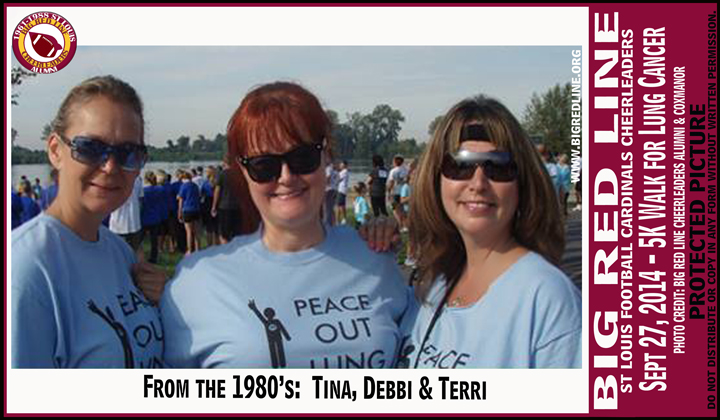 The BRL helped make a dream come true! 16 yr old Libby took a limo from her home to Norstrom Galleria to spend the afternoon with fashion designer, Project Runway 9 Laura Kathleen & two members of the Big Red Line (Debbi & Terri) getting a full, personally fitted by Nordstrom wardrobe from the Dream Factory St Louis. Then she headed over to KINK salon for the finishing touches.
(pictured: Libby, Terri and Laura Kathleen)