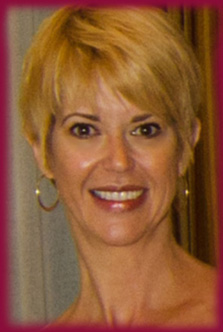 PERSONAL
Birthdate: July 31
Birthplace: Benton, Il
Spouse: John
Kids: 2
BRL: 1986-1987
WHAT YOU DIDN'T KNOW ABOUT ME
I credit my years on BRL to getting a gig as an aerobics demonstrator on "Body Power" an exercise program that aired on KMOX (now KMOV) in the 80s. I was also Miss Missouri 1988 and represented Missouri at the Miss USA Pageant.

Being on the Big Red Line was one of those experiences in life you never forget. I can still feel the sting of the cold when we cheered in below zero temps, the appearances all over St. Louis, the scrunching of the pom-pons to make them fluffy, and the comical, non-sensical things that would come out of Ray Parks' mouth! It was one of best times of my life. I made friends that will last a life time and for that I am very grateful.

In 1989 I moved to Los Angeles, CA. I cheered for the Los Angeles Raiders (Raiderette) for a year and that was great fun too. I met my husband in 1990. He is a musician and currently tours with Frankie Valli and the Four Seasons. We have two beautiful kids, my son Nic is 13 and in 7th grade and my daughter Mia is 8 and in the 3rd grade. I am still in Los Angeles, actually about 30 minutes north of Downtown LA. I have something no one else in LA has, a 1 mile commute from home to work! I can walk to work. I don't but I should.

I've been in Los Angeles over 20 years but still consider St. Louis my home. I am proud that I was able to represent the great city of St. Louis as a cheerleader on the Big Red Line. It was an experience I will always treasure.