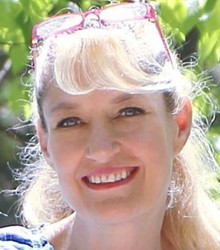 PERSONAL

BRL: 1986-1988


IN MEMORY
August 22, 1967 - September 18, 2016

Lena of Cuba, Missouri was born Tuesday, August 22, 1967 at St. Louis, Missouri to the union Ernest Alvin and Rachel and left from this life, surrounded by her family, on Sunday, September 18, 2016 at her mom's home in Bridgeton, Missouri at the young age of 49 years.

Lena attended Pattonville High School in St. Ann, Missouri and studied at UMSL (University Missouri St. Louis) for business. She continued her education, by taking many classes, to keep her certification in teaching Head Start.

In her younger years she cheered for the "Big Red Line" cheerleaders for the St. Louis Cardinals Football Team, the "Blue Angels" cheerleaders for the St. Louis Blues Hockey Team and the "Steam Heat" cheerleaders for the St. Louis Steamers Soccer Team. Her family would go to the farm in Vichy and Lena would spend hours riding horses. She enjoyed all music from the 1950's to current and she loved to sing along with the radio. Lena volunteered for fifteen years for the "Children's Miracle Network Telethon" that was held at Six Flags in St. Louis. Lena always had a special place in her heart for children. Taking pictures, swimming, dancing, shopping, reading, going to the river and watching the St. Louis Cardinals Baseball were some of her favorite hobbies. You could find her every year from childhood until recent watching the "Wizard of Oz" every time it was on TV.

On October 25, 2001 Lena met and fell in love with Shane. They are the very proud parents of twins Shane and Melayna. Lena was truly the greatest mom in the world. Her entire life for the last twelve years has revolved around her children. Every day was a new adventure and everything was fun as long as they were together. They did crafts, daily actives and bedtime stories together every day. Lena would find a place they hadn't been and away they would go on a road trip and a new adventure. Although Lena's favorite season was summer, for she always loved the heat, when winter came along they would be outside making snow angles, building a snowman or just playing in the snow. Lena had a smile that made everyone smile, a laugh that could fill a room, love for every child and adult she met, she only spoke positive words and was honestly the sweetest and kindness person you could have ever known. She believed that every moment of every day was your chance to great a memory.

Lena was a loving daughter, sister, wife, mother, aunt, sister-in-law and friend of everyone. She will be forever missed but never forgotten by all who knew and loved her.