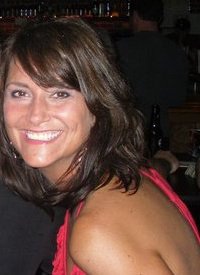 PERSONAL
Birthdate: Feb 10
Birthplace: St Louis, MO
Spouse: Dan
Kids: 3
BRL: 1986-1988
WHAT YOU DIDN'T KNOW ABOUT ME
I am the youngest of nine siblings. I have four sisters and four brothers. I enjoy reading, watching my kids' sporting events, hosting sleepovers, and spending time with family and friends.
I was also a member of the Steam Heat Dancers from 1985-1988.

I have wonderful memories of being on the squad, especially getting to know all of the girls and spending so much time with them. It was an honor to have Ray Parks as our dance choreographer and Rusty Herman as the director of the Big Red Line.

After leaving the BRL, I was a member of the Arch Angels for one season.

I settled into a career in Accounts Receivable at The Hager Hinge Company.

I have been married to Dan since 1993. Together, my husband and I decided that I would be a stay-at-home mom when my first daughter was born in 1997. Her name is Caitlyn. Next came a daughter named Kirstin, then a son named Connor. They bring me so much joy!

I am extremely active in my children's school, and have been the Parents Club President since 2005.