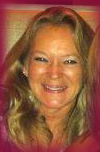 PERSONAL
Birthdate: May 23
Birthplace: Fort Riley, KS
Spouse: Mark
Kids: Three
BRL: 1986-1988
WHAT YOU DIDN'T KNOW ABOUT ME

I became a member of the Big Red Line after dancing for the St. Louis Steamers for 2 years. Cheering for the Cardinals was a whole different experience with it being in an outdoor stadium. The first football game brought lots of excitement and was so much fun! I was in awe with being on the field with the football players and enjoying the craziness of the fans and dancing with the Bob Cuban band.

Weathering the different seasons was interesting and I have fond memories of burning feet, freezing cold and rainy days with see-thru ponchos sticking to the hairspray in my hair.

While dancing with the Big Red Line, I was also a Steamheat Dancer for the St. Louis Steamers and a St. Louis Blues Hockey cheerleader. I was working full time in the printing industry and teaching tap, ballet and jazz dance lessons at a local studio several days a week.

After the Big Red Line I danced with the Arch Angels. Since then I have continued to work in the printing industry and became certified to teach Jazzercise which I do several times a week. I also volunteer with the St. Louis Children's Wishing Well Foundation, a non-profit organization committed to granting wishes for chronically and terminally ill children in our community, as well as volunteering for things at my kids schools.

In my spare time I enjoy spending time with my family and friends.