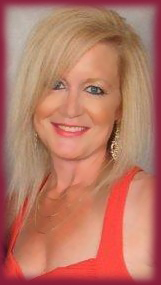 PERSONAL
Birthdate: February 12
Birthplace: Irving, TX
Spouse: Single
Kids: 2
BRL: 1987-1988
WHAT YOU DIDN'T KNOW ABOUT ME
I offically have football knees. Since ending my days with the Big Red Line, I have had 13 surgeries from the knees down- seven on one knee alone!!

In all of my years while dancing for the St. Louis Professional Cheerleaders and Dances, under the direction of Mr. Ray Parks and Rusty Herman, my time on the Big Red Line was the most memorable. Having the profound blessing of being part of the last year of the Big Red Line for the Cardinals made me cherish the year even more. And, yes, there was an NFL strike that year, but it did nothing to deter my love for the NFL, St. Louis, or the friendships that have lasted a lifetime.

There were the games at our beloved Busch Stadium, countless promotions and performances to do. However, I think I miss rehearsals the most. (Even the early Sunday morning ones - well... because some of us had a lot of fun on Saturday night....) During those long rehearsals we had a chance to learn, work, grow and share our dreams with each other. It was during those rehearsals that we became a family. 25 years later, those memories still bring back smiles.

Now, I am in my 13th year as a special education teacher, and have been a cheerleading coach for my school for the last seven years. It is a career that I love and cherish.

I am also a mother to two beautiful girls. It is my most important role in life. My eldest, Jessica is a member of her university dance team and is preparing to audition to be an NFL cheerleader. My youngest, Jamie is a varsity cheerleader at her high school and wants to follow her sister dancing in college, also.

The years with the SLPCD and the Big Red Line helped shape and made me who I am as a person. For that, I will be forever grateful and thankful for the blessings I was given by those fabulous and unforgettable years in my life.

Cheers!!